To those who've known me from the start, they know that I am not kikay. At all. Therefore, I am not into those bracelets, or necklaces, or earrings, or even nail polishes. But yes, I do put nail polish once in a while, but only of very light shades. I remember the very first one I painted on my nails were metallic light green, and you can barely see it unless you stare at my nails. And this was back in college already. And over the years, I have my nails painted, maybe at least every 3 months or less, but I get frustrated as they chip off after I have them done. So I stop having my nails painted. Until recently, when nail arts are getting more famous, I enjoy viewing them. Yet I never have nail arts as they were expensive in nail salons. I compliment my sister when she get nail arts (she's the kikay one), or my friend does one.
So after looking at all those fantastic nail arts (and kept bugging a friend to do this and that), I told myself that maybe I could try doing one. But I thought that it's a tedious job. My friend did one nail art on me when she slept over at our place.
Here's the one that was done on my nails. Sabog nga lang yan cause it was done at almost 1am already.
The first ever nail art that I personally did was a bamboo. It was a promise for a friend that I will show her a sample of a bamboo nail art.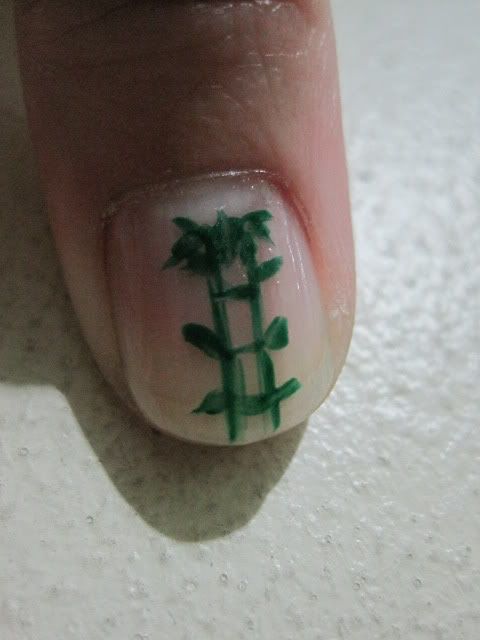 And since I also promised her a panda...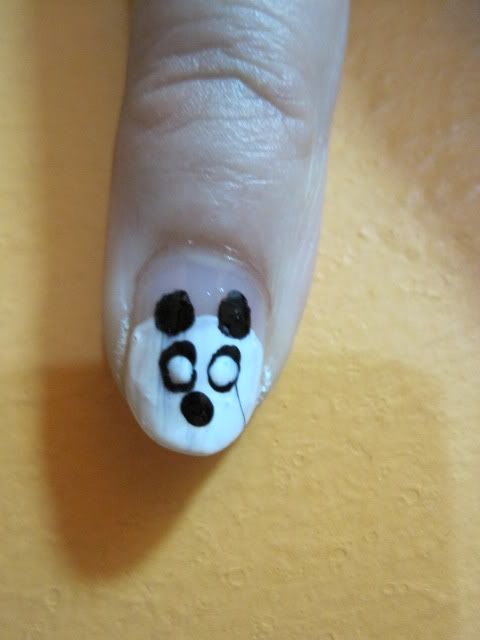 But my panda is not looking so much like a panda. :))
Since I totally enjoying how people do the water marble nail art. I did one as well!
Water marble is the only nail art the I did in all fingers of one hand. Because I find nail art making tedious (but very fun), I usually only do one on my thumb.
And just early this afternoon, I did my latest nail art, "color block nail art", with the help of
this video
from Youtube.
I found few other nail arts that I found interesting to do, I'll do them some other time. :)